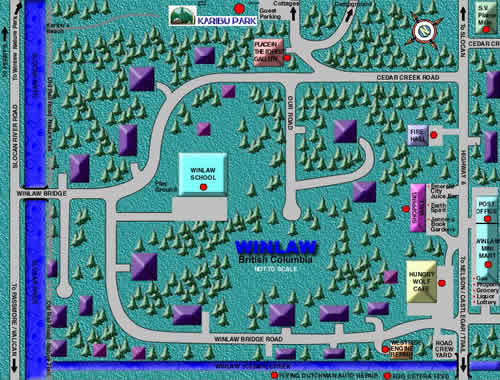 Winlaw, B.C. is located in the heart of the lower Slocan Valley. "Downtown" Winlaw, on Highway 6, features:
Winlaw MiniMart a convenience store with a large selection of foods liquor and goods, and gas station; open 7 am to 9 pm weekdays, 8 am to 9 pm weekends.
Winlaw Post Office open 8 a.m. to 5:30 p.m.; Sat 9 to 12; closed from 1 til 2 pm weekdays.
Cedar Creek Cafe, a cozy, eclectic restaurant offering conventional, vegetarian and ethnic food; open 8 am til 8 pm; 7 am til 9 pm in summer; there is often entertainment, inside inthe winter and outside in the summer, offering a festival-like atmosphere.
Sleep Is For Sissies is a take-out or sit-down, licensed eatery in a greenhouse-like setting, for a quick bite, featuring coffee, wraps and other delights. There is entertainment often, and a skating rink behind, in those winter months that make it possible.
Gaia Tree Whole Foods features organic foods and produce, much grown locally- located at the Cedar Creek Cafe.
Earth Spirit a metaphysical bookstore, videos and much more.
Egg-Cetera Feed has animal feed, fresh eggs and Loomis depot.
MoonMonsters Secret Cave has all sorts of new and used treasures, especially clothing.
The Spicer Centre is home to a school, a wellness centre, with lots of treasures and used goods, and an agriculture co-op; there is a Farmer's Market here on Sundays (during the "season" for this) from 11 am to 2 pm.
Winlaw Elementary School has a large playground and field, paved basketball court and community library.
Winlaw Nature Park nearby, has trails, a beach and a play area. Winter and summer activities abound!
Winlaw Hall nearby, just up the highway, and with a back trail to our campground to the hall, has facilities for gatherings, and a large field outside too.
Fomi's

Bakery

is about a km north of us, on the highway, and features all kinds of yummy breads, take-out foods, bakery goodies, borscht, and a cozy little indoor area to have a nice snack or meal, or a coffee. Closed Sundays, Mondays.
The Slocan Valley Rail Trail -"Spirit of 2010", a "Rails to Trails" recreation corridor that runs from South Slocan to Slocan, is a wonderful trail for non-motorized use by horse riders, mountain bikers, runners, walkers, hikers, wildlife viewers, photographers, and in the winter, cross-country skiiers and snowshoers. Please pick up after your pooches.