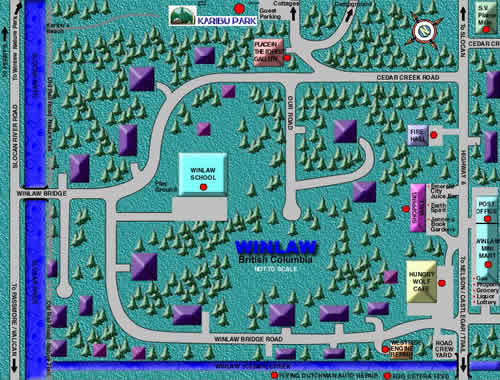 Note: this map is a bit out of date- Hungry Wolf is now Mama Sita's, and
there is a Home Hardware just north of the Firehall, now.
New map coming soon!
Winlaw, B.C. is located in the heart of the lower Slocan Valley.
"Downtown" Winlaw, on Highway 6, features:
Winlaw MiniMart a convenience store with a large selection of foods liquor and goods, and gas station; open 7 am to 9 pm weekdays, 8 am to 9 pm weekends.
Winlaw Post Office open 8 a.m. to 5:30 p.m.; Sat 9 to 12; closed from 1 til 2 pm weekdays.
Mama Sita's Cafe, a cozy, eclectic restaurant offering conventional, vegetarian and ethnic food; open 8 am til 8 pm; 7 am til 9 pm in summer; there is often entertainment, inside in the winter and outside in the summer, offering a festival-like atmosphere.
Sleep Is For Sissies is a take-out or sit-down, licensed eatery in a greenhouse-like setting, for a quick bite, featuring coffee, wraps and other delights. There is entertainment often, and a skating rink behind, in those winter months that make it possible (and ice sculptures!).
Gaia Tree Whole Foods features organic foods and produce, much grown locally- located next to Mama Sita's Cafe.
Earth Spirit a metaphysical bookstore, videos and much more.
Egg-Cetera Feed has livestock feed, pet food and treats, fresh eggs and more!
Rambling Rose has all sorts of new and used treasures, especially, but not limited to, clothing.
The Spicer Centre and Cedar Creek Gardens have various shopping possibilities, like Emery's Herbals (they have all kinds of herbal remedies, teas, tinctures, essential oils, etc), a craft store, etc.

An ecclectic mix!
Winlaw Elementary School has a large playground and field, paved basketball court and community library.
Winlaw Nature Park nearby, has trails, a beach and a play area. Winter and summer activities abound!
Winlaw Hall nearby, just up the highway, and with a back trail to our campground to the hall, has facilities for events and gatherings, a commercial kitchen, and a large field outside too.
Fomi's

Bakery

is about a km north of us, on the highway, and features all kinds of yummy breads, take-out foods, bakery goodies, borscht, and a cozy little indoor area to have a nice snack or meal, or a coffee. Closed Sundays, Mondays.
The Slocan Valley Rail Trail -"Spirit of 2010", a "Rails to Trails" recreation corridor that runs from South Slocan to Slocan, is a wonderful trail for non-motorized use by horse riders, mountain bikers, runners, walkers, hikers, wildlife viewers, photographers, and in the winter, cross-country skiiers and snowshoers. Please pick up after your pooches.