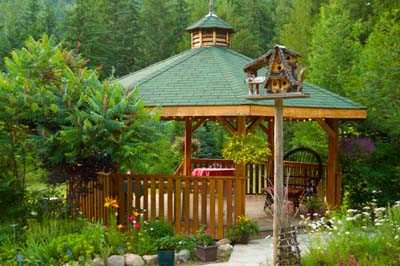 Recreation Area: We have two level lawn areas, where you can play volleyball, horseshoes, badminton, croquet, bocce, etc. There is also a children's playground, lawn chairs to relax in, barbeques, a firepit and flower gardens.
Gazebo: A beautiful 6m (20 foot) diameter octagonal gazebo is the perfect place for families, friends, groups, wedding parties, etc. to gather in, whatever the weather - central to all cottages; a great "energy spot".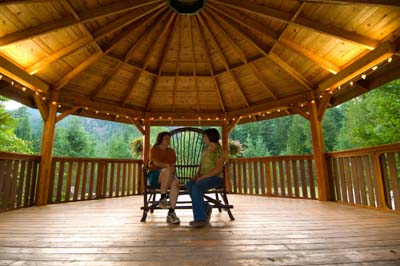 Trails: We have a network of trails and small roads throughout the property, for hiking, or cross-country skiing in winter. An old railway bed runs alongside the river and has been converted to a Rail Trail (part of the Trans Canada system!) and is great for hiking, biking or other non-motorized transport (tracked in the winter when the snow is good, for cross-country skiing, or snowshoeing)- you can travel from Crescent Valley to Slocan on it! It's 30 km from here to the south end, and 20 km to the north end at the lake!
Beach: We have a small, terraced, grassy beach for a quick, refreshing dip on a warm summer's day! You can also walk north up the rail bed and float or swim down to our place, maybe stop at the sandy park beach on the way....