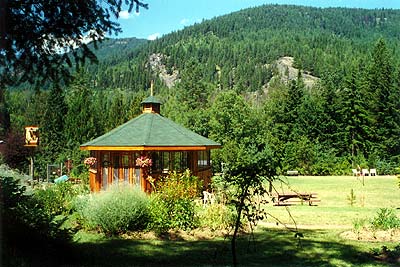 Karibu Park is situated in a quiet, rural setting in natural surroundings, but conveniently located as well:
minutes' walk from "downtown" Winlaw, in the Slocan Valley, with small but good restaurants (often with live music!), a convenience store, other shops, gas, post office, fire and ambulance station nearby;

click on the Winlaw link!

about 40 minutes' drive from the towns of Nelson, Castlegar and New Denver; many other small communities in the valley

;

click on the Slocan Valley link for some more info! There's a golf course and clubhouse, a bakery and so much more not far away at all!

close to entrance points to Valhalla Provincial Park;
on the Slocan River and Rail Trail (above it, so you have to walk down to it about 5 minutes through the forest), and close to Slocan Lake (about 10-15 minutes' drive).

Our property consists of 6 hectares (14 acres) of wooded and landscaped area:
numerous gardens, forest, a gazebo to gather in, and many onsite activities in our recreation areas,

as well as a small grassy beach on the pristine Slocan River

high speed wireless internet

, but NO cell service yet!

spa facilities to unwind in
our front office is open from 9 am to 9 pm daily; we have tourist information, some items for sale and friendly people!
water is spring-fed, with a state-of-the-art UV light water filtration system to ensure water purity naturally, without chemicals
enlarged campground property map
(Adobe Acrobat Reader required)
Acrobat Reader is a free utility that converts documents for ease of viewing and printing - get adobe reader here

COTTAGES: Our 8 cottages are equipped with all the comforts of home, including full bathrooms, electric heat, equipped kitchens, great beds, with all linens provided (sheets, bedding, towels). All have satellite TV, wifi, and some have phones (there is no cell coverage here yet). For long-distance calling, either at your cottage or at the payphone, you will need a calling card. Click on the Cottages link, and see Detailed Info for individual cottage descriptions and rates- they're all different!
CAMPGROUND: Our campground offers over 30 spacious sites, privacy, basic amenities, and hot showers. Sites 1 to 12 have power (20,30 or 50 Amp) and UV-treated water; the rest are basic sites. We do not have a sani-dump; the closest one is in Slocan (19 km away). An alternative to tenting is to rent our authentic tipi! See the Campground link for details!
We strongly encourage recycling and composting, and the vegetables/fruit/etc that you put in the bin becomes fertilizer for our plants!